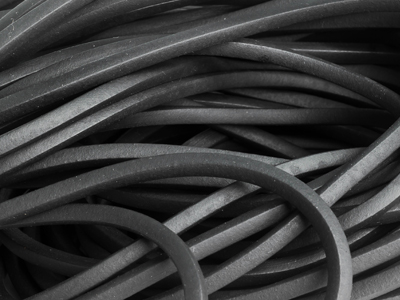 Nitrile rubber, which is also called as acrylonitrile butadiene rubber, Buna-N, and NBR, is a synthetic rubber copolymer of the composition of acrylonitrile (ACN) and butadiene. Perbunan, Nipol, Krynac, and Europrene are well-known trade names.
Since NBR's operating temperature ranges between −40°C and 108 °C (−40°F and 226°F), it can be reliably used in aeronautical applications.
NBR shows high resistance to vegetable oils, mineral oils, benzene/petrol, diluted acids, and alkaline chemicals, and ordinary diluted acids.
Features
Its resistance to oils and acids and its strength are better than those of natural rubber, however, it has low flexibility compared to natural rubber.
Offers superior option for sealing applications
Shows good compression set resistance
Shows abrasion resistance
Has high heat resistance
Good resistance to water
Resistance to gas permeability
Can be compounded with other elements to improve the operating temperature up to 121°C (250°F)
Applications
printer's form rollers
tubing
hoses
molded shapes
O-rings
connectors
gaskets
roller bumpers
oil seals
striper rubber
V belts
rotating heads
(BOP) Blowout preventers
disposable non-latex gloves
synthetic leather
automotive transmission belts
Nitrile Properties
Common Name: Buna-N, Nitrile, NBR

ASTM D-2000 Classification: BF, BG, BK
Chemical Definition: Butadiene Acrylonitrile

Resistance

Oil Resistance: Good to Excellent
Abrasion Resistance: Excellent
Tear Resistance: Good
Resistance: Good to Excellent
Aging Weather/Sunlight: Poor
Tensile Strength

Tensile Range (P.S.I): 200-3000
Elongation (Max %): 600

Temperature Range

Low Temperature Usage: -30°F to -40°F | -34°C to -40 °C
High Temperature Usage: Up to 250°F | 121°C

Durometer (Hardness) – Range: 20-95 Shore A
General Characteristics

Adhesion to Metals: Good to Excellent
Compression Set: Good
Resilience/ Rebound: Good