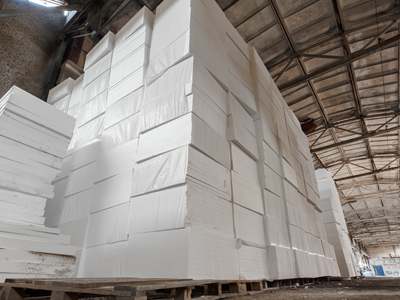 Polystyrene, which can be found in solid or foam forms, is a non-toxic hydrocarbon polymer.
It provides high machinability, electrical insulation, excellent resistance to water, acids, and shocks as well. Not providing a suitable environment for mildew and bacteria development make this material prominent.
Since it is one of the widely consumed plastics, several million tons of polystyrene are produced per year in the world. Although it is naturally colorless and transparent, polystyrene can be produced in various colors using colorants.
Features
Low-cost, rigid, easy to mold, good dimensional stability, and transparent.
Excellent electrical insulation and low dielectric loss.
Superior gamma radiation resistance.
Applications
Food packaging, containers, lids, bottles, trays
Lab equipment
Insulation
Disposable Cutlery
Sporting equipment
Boat and watercraft components
Automobile parts
Properties of Polystyrene
Technical Name : Polystyrene (PS)
Chemical Formula : (C8H8)N
Melt Temperature : 210-249 °C (410-480 °F)
Typical Injection Molding Temperature : 38 - 66 °C (100 - 150 °F)
Heat Deflection Temperature (HDT) : 95 °C (284 °F) at 0.46 MPa (66 PSI)
Tensile Strength : 53 MPa (7700 PSI)
Flexural Strength : 83 MPa (12000 PSI)
Specific Gravity : 1.04
Shrink Rate : 0.3 - 0.7 % (.003 - .007 in/in)