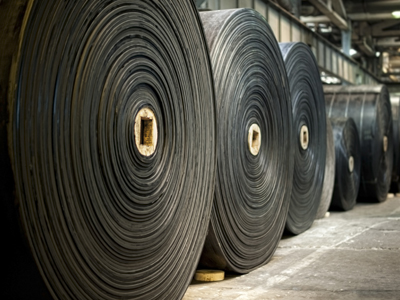 As an alternative material to metal and plastic, rubber can be reliably used in applications requiring high flexibility, stretching, and compression features.
There are two types of rubbers: natural rubber and synthetic rubber. Both types of rubbers have several advantageous physical and mechanical properties such as good elasticity, superior tensile strength, and excellent tear and abrasion resistance.
Features
Can be used as an element for in various compositions to meet required mechanical properties.
Can be used either as an electrically conductive material or an insulator.
Has excellent protection, sealing, and insulation properties.
Has low sound permeability and absorbs vibration.
Applications
Pencil erasers
Keyboard keys
Non-slip feet for enclosures
Grommets
Noise reduction devices
Seals
Caps
Tires
Gaskets
Grips
Vibration isolator
Rolls
Bushings
Pad assemblies
Dock bumpers
Features
Inexpensive alternative material to natural rubber.
Can be used in various applications in the industry.
Has excellent flexibility at low temperatures.
Has superior heat resistance and suitable for heat aging processes.
Temperature range: -50°F to 225°F | -45°C to 107°C
Has almost the same abrasion resistance with natural rubber.
Applications
SBR rubber pads (Mining equipment)
Synthetic Rubber Seals
Rubber gaskets
SBR Panel grommets (HVAC market)
Custom molded rubber components for plumbing applications
Types of Rubber
Neoprene
Polychloroprene: It has superior resistance to abrasion and extreme weather conditions. It is usually used in the production of gaskets, window sealing products, and exercise equipment, etc.
Buna-N
Nitrile / NBR: It shows excellent resistance to oils and solvents, however, its weatherability is quite low. It is widely used in the production of hoses, seals, and O-rings, etc.
Silicone
Polysiloxane: It is a flexible material with high resistance to sunlight and oxidation, also, it has significant insulation properties. It is commonly used in the production of adhesives used for the protection of fuel tanks, air ducts, and wiring.
EPDM
Ethylene Propylene Diene Monomer: It has superior resistance to UV rays and extreme weather conditions. It is widely used in the production of hydraulic brake systems, belts, grommets, roof coatings, and window spacers.
Natural Gum
Polysaccharide: It shows superior tensile strength, abrasion resistance, and elasticity. It is widely used in the production of pencil erasers, car airbags, and clothing.
Viton
FKM: Since it has outstanding resistance to high temperatures, aging, weather conditions, sunlight, oxygen, ozone, and chemicals, it is widely used in engines, aerospace equipment, and gaskets.
Natural Rubber
Caoutchouc: It shows high strength, elasticity, and tear resistance. It is widely used in the production of flooring materials, nozzles, and gloves.
SBR
Styrene Butadiene: It has high abrasion and wear resistance. It is commonly used in the production of grommets and car tires.
Santoprene
Thermoplastic Vulcanizates: It has superior chemical resistance and withstands extreme weather conditions. It is widely used in the production of weatherstripping, glazing seals, drum rollers, and couplings.
ECH
Epichlorohydrin: It has outstanding resistance to oils, fuels, and ozone. It is commonly used in the production of tubes, seals, and various components for fuel systems.
Butyl
Isobutylene Isoprene: It has superior electrical insulation property and excellent resistance to acids and alkalis, also, it is almost air-tight and gas-tight. It is widely used in tubing works, sealants, tank liners, and shock mounts.
Latex-Free TPE
Thermoplastic Elastomer (TPE): It can absorb the vibration and be used in irregular surfaces. As a non-toxic, non-allergenic, and highly elastic material, TPE has excellent tensile strength. It is widely used as an alternative to latex and silicone tubing.
Hypalon
Chlorosulfonated Polyethylene: It has excellent resistance to ozone, chemicals, oils, and flex cracking, and it can be used under extreme weather conditions. It is widely used in the production of military equipment, roofing materials, and snowshoes.
NATURAL RUBBER PROPERTIES
Common Name: Natural Rubber

ASTM D-2000 Classification: AA
Chemical Definition: Polyisoprene

Temperature Range

Low Temperature Usage: -20° to -60° F | -29° to -51°C
High Temperature Usage: Up to 175° F | Up to 80°C

Tensile Strength

Tensile Range (P.S.I): 500-3500
Elongation (Max %): 700

Durometer (Hardness) – Range: 40-90 Shore A
Resistance

Abrasion Resistance: Excellent
Tear Resistance: Excellent
Solvent Resistance: Poor
Oil Resistance: Poor
Aging Weather/Sunlight: Poor

General Characteristics

Adhesion to Metals: Excellent
Compression Set: Excellent
Resilience - Rebound: Excellent
SYNTETIC RUBBER PROPERTIES
Common Name: SBR, Buna-S, GRS

ASTM D-2000 Classification: AA, BA
Chemical Definition: Styrene Butadiene

General Characteristics

Adhesion to Metals: Excellent
Abrasion Resistance: Excellent

Resistance

Tear Resistance: Fair
Solvent Resistance: Poor
Oil Resistance: Poor
Aging Weather/ Sunlight: Poor

Temperature Range

Low Temperature Usage to -50°F | -45°C
High Temperature Usage Up to 225°F | 107°C

Additional Properties

Durometer Range (Shore A): 30-100
Tensile Range (P.S.I): 500-3000
Elongation (Max %): 600
Compression Set Good
Resilience - Rebound: Good