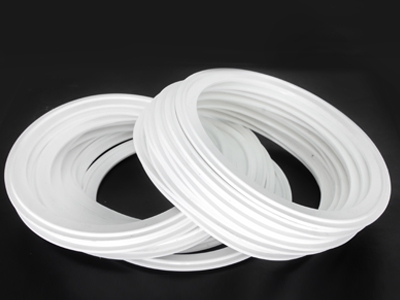 Being a member of polymers, silicone material, which is also called polysiloxane, is produced from siloxane, which has a chemical linkage of -R2Si-O-SiR2- where R denotes the organic group. Silicone is a colorless material that looks similar to oils and rubber-like materials.
Features
Shows low thermal conductivity.
Shows low chemical reactivity.
Shows low toxicity.
Shows heat consistency and retains its properties in a temperature range between −100°C and 250°C (between −148°F and 482°F).
Repels water and can be used as watertight seals.
Although it does not stick to many physical layers, it can adhere to several of them such as glass.
Does not provide a suitable environment for microbiological development.
Shows good resistance to ultraviolet (UV) rays, oxygen, and ozone.
Applications
Automotive

Sound and vibration dampening in automotive drive shafts
Shaft sealing rings
O-rings
Window and door seals

HVAC

Square, kink-free tubing
High-temperature gaskets
O-rings

Electrical

Wire and cable jacketing
Electrical safety stinger covers
Conductive profiled silicone seals
SILICONE PROPERTIES
Common Name: Silicone

ASTM D-2000 Classification: FC, FE, GE
Chemical Definition: Polysiloxane

Temperature Range

Low Temperature Usage: -60° to -150° F | -50°C to -100°C
High Temperature Usage: Up to 480° F | Up to 250°C

Tensile Strength

Tensile Range: 200-1500 P.S.I.
Elongation: 700% Maximum

Durometer (Hardness) – Range: 30-90 Shore A
Resistances

Abrasion Resistance: Fair to Poor
Tear Resistance: Poor
Solvent Resistance: Poor
Oil Resistance: Fair to Poor
Aging Weather - Sunlight: Excellent

General Characteristics

Adhesion to Metals: Good
Compression Set: Good
Resilience/Rebound: Good
ADVANTAGES OF SILICONE
Shows much better thermal resistance to low and high temperatures compared to natural rubber.
Shows good thermal consistency
While several types of silicone compounds withstand long-term continuous operation at high temperatures even 200°C (392°F), some of them can withstand short-term continuous operation at higher temperatures.
Shows water repellent characteristics, thus can be used in watertight sealing.
Provides excellent electrical insulation and retains its insulation property under humid conditions even when it is immersed into the water.
Carbon black addition to the compound tends to improve the electrical conductivity of the silicone.
While it is flexible at low temperatures, its flexibility degrades at higher temperatures and gets stiffen.
The steam usually causes no or very little deterioration under normal pressure,
Can be a flame retardant material when compounded with certain additives (several products with UL94 V-0 certification in accordance with the UL94 (USA) standards on flammability classifications of the materials)
Shows low chemical reactivity
Suitable to be compounded with various compositions and methods to meet requirements of various applications.
Fillers can be used as an additive to improve tensile strength up to 1,500 PSA and tear resistance up to 200 lbs (91 kg).