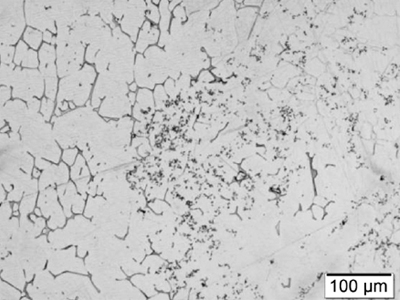 As a chromium-containing alloy, stainless steel offers various advantages, and it is widely used in several industries. Their corrosion resistance in aqueous environments and service capability at higher temperatures make them preferable. Chromium addition enhances the corrosion and oxidation resistance of the material, which makes it distinct from other types of the steels. The addition of chromium of about 11% provides passivity to ferrous alloys, particularly for the strong oxidizing conditions. As a result, the steels with more than 10% or 12% chromium addition are usually defined as stainless steel.
DIN/EN 1.4309/GX2CrNi19-11 AISI 304L
DIN/EN 1.4309/GX2CrNi19-11 AISI 304L
DIN/EN 1.4409/GX2CrNiMo19-11-2 AISI 316L
DIN/EN 1.4408/GX5CrNiMo19-11-2 AISI 316
DIN/EN 1.4593/GX3CrNiMoCuN24-6-2-3 A890 1A
DIN/EN 1.4517/GX2CrNiMoCuN25-6-3-3 A890-A995 1B
DIN/EN 1.4470/GX2CrNiMoN22-5-3 A890-A995 4A
DIN/EN 1.4469/GX2CrNiMoN26-7-4 A890-A995 5A
DIN/EN 1.4011/GX12Cr12 AISI 410
DIN/EN 1.4027/GX20Cr14 AISI 420
DIN/EN 1.4470/GX2CrNiMoN22-5-3 DUPLEX 2205
DIN/EN 1.4469/GX2CrNiMoN26-7-4 SUPERDUPLEX 2507
With its corrosion resistance, stainless steel castings can be perfectly used in various parts that are exposed to excessive corrosion, such as valves and pumps. Also, investment castings of stainless steel offer a cost-effective alternative to other metals for a range of parts since complicated geometries of highly precise components can be manufactured requiring little or no tooling. Although the initial cost of stainless steel castings may be higher, the durability and performance advantages make them preferable considering in the long run.
What makes stainless steel unique is its perfect corrosion resistance. With its built-in chromium oxide layer, the investment castings of stainless steel provide superior anti-corrosion properties to the material. These anti-corrosion properties make stainless steel castings ideal for defense and security, medical, and industrial applications.
Advantages of Stainless Steel
High Strength: The key characteristic of the stainless steel material is its strength. It preserves its strength at extremely low and high temperatures. Therefore, it is widely used in demanding applications such as aviation.
Easy-to-clean surface: As a hygienic and anti-bacterial material, stainless steel can be safely used in catering and medical applications. Also, it offers low maintenance costs, since it can be easily cleaned and sterilized, and it is not a suitable environment for bacterial development. It can be easily cleaned by applying an all-purpose cleaner with a fabric material. Thus, it is widely preferred in kitchens and hospitals due to these conveniences.
Aesthetics: Besides its strength, the aesthetic view of stainless steel makes it attractive. It is widely used in architecture since it looks gorgeous. It provides a stylish and modern look to classical and modern spaces, as well as offering extra functionality.
Corrosion resistance: With its superior corrosion resistance, stainless steel prevents rusts and water stains on the surface. Therefore, stainless steel can be used in indoor and outdoor applications of demanding environmental conditions such as extreme pressure and temperature. The chromium addition provides stainless steel with these superior properties by creating a thin layer on the surface of the steel to protect it when exposed to oxygen.
Recyclable: Stainless steel can be produced using recycled steel. Moreover, it does not lose its outstanding characteristics when it is recycled. As a recyclable material, it can be reused continuously, as well as benefiting the environment and ensuring sustainability.
Detailed Material Properties Table
Please kindly click on below PDF document to see the stainless steel properties table.